This post was shared by Rachael Taylor (University of Sussex) and reflects some of her own views on the report discussed and not necessarily those of the authors of the report.
This month two members of BSUFN published a report based on a piece of research they undertook earlier this year. The report is titled 'Edible Insects and the Future of Food: A Foresight Scenario Exercise on Entomophagy and Global Food Security'.
Researchers Dominic Glover (Institute of Development Studies) and Alexandra Sexton (King's College London) used Foresight methods to anticipate whether edible insects can provide health protein and micronutrients to contribute to future global food security.
One of the methods used in the study was a scenario exercise to identify whether edible insects would potentially feature in future diets according to different economic and resource scarcity conditions. Study participants identified four different future scenarios: A Gated World; New Asia; Mundus Middle-Class; and Bread and Circuses.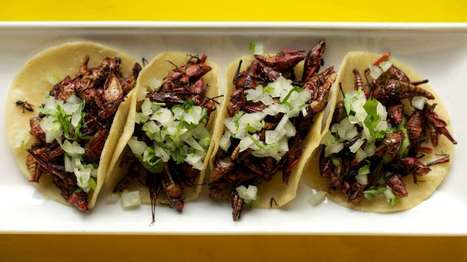 The outcome of the scenario exercise suggested that edible insects would feature in future diets under each scenario but to varying degrees. This is perhaps not surprising given that, on a global scale, edible insects already feature in diets so some degree of consumption of edible insects could be anticipated regardless of changes in resource scarcity or economic power.
The researchers recognise that there were limits to the scope of this study. Further, in the scenario-building exercise the participants identified a variety of potential influences on future trends in diet and then selected resource scarcity and economic power as the two which were used for scenario development. Although significantly difficult to model or factor into a scenario exercise, social and cultural influences on behaviour change are likely to have a central role in determining the future of edible insects in achieving global food security.
The full report by Glover and Sexton (2015) is available here. If you have any comments on this report please share them with us using the comments box below or via e-mail to food.network@sussex.ac.uk.